HOME
NGC2264 and NGC3745
Christmas Tree Cluster, Fox Fur Nebula and Cone Nebula
Star Cluster with Emission, Reflection and Dark Nebulae, in Monoceros
Click here for higher-resolution versions: 1487x1414 2230x2121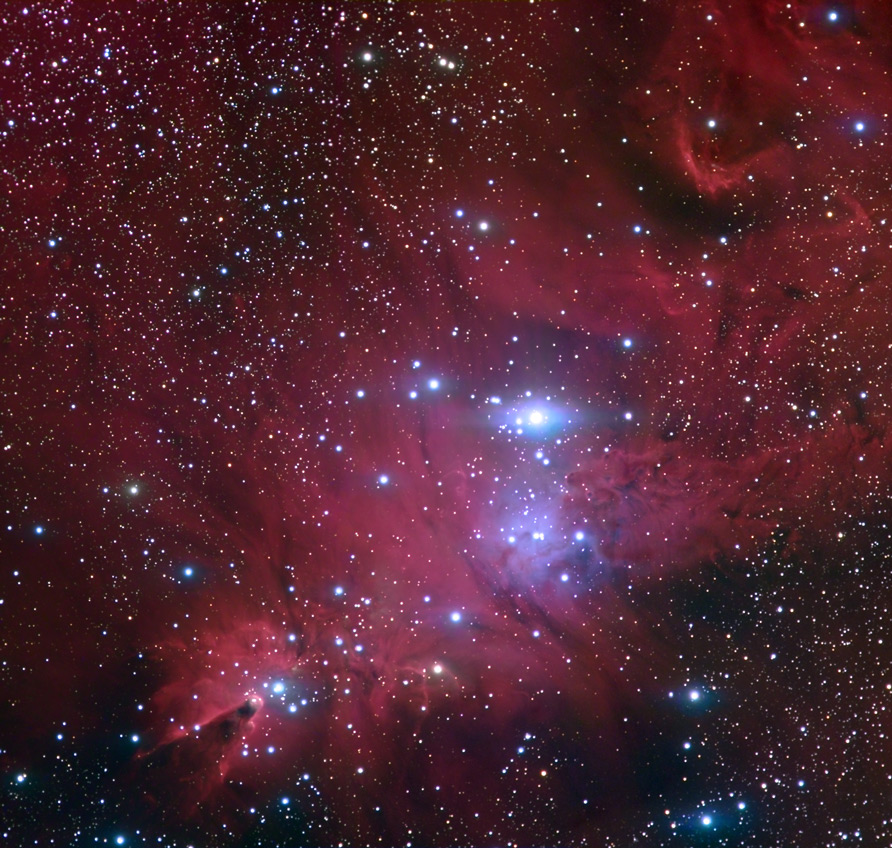 NGC2264: This is a large region of nebulosity with a star cluster, which includes a great deal of emission nebula (red), some reflection nebula (blue), dark nebula (much of the cone, as well as some other parts), and an open star cluster. To put a scale on this, the Cone Nebula is estimated to be about 7 light years long; the entire width and height of this image is about on degree of arc, or about 45 light years across for objects 2500 light years away. This is part of an extensive star-forming region. Various parts of this image are at varying distances from us; it is estimated that the Cone Nebula is about 2500 light years away from us, and NGC2264 (the bright star cluster) is about 2200 light years from us.
Technical Information:

(HaC)RGB: This is a mosaic of two panels, each panel consisting of data from 420 minutes of Ha (fourteen 30-minute images), 150 minutes of unfiltered data (ten 15-minute images) and 75 minutes each of R, G and B (five 15-minute images of each), for a total exposure time for the two panels combined of 1590 minutes (26.5 hours). The luminance layer is 65% clear channel data, and 35% Ha data. The red channel is a blend of about 75% Ha data and 25% red-filtered data.
Equipment: AP130 f/6 Starfire, SBIG ST-10XME with CFW8 (Astrodon filter set), on a Bisque Paramount ME German Equatorial Mount.
Image Acquisition/Camera Control: CCDSoft v5, controlled with CCDAutoPilot3, and working in concert with TheSky v6.
Processing: All images calibrated (darks and dawn flats) in CCDSoft, debloomed in Rod Wodaski's debloomer, data-rejected and combined in CCDStack, and deconvolved in CCDStack. The two panes of each channel were aligned, normalized and stitched together in CCDStack, and color combine and finish work was done in Photoshop CS2.
Location: Data acquired remotely from the Tejas Observatory, located on the grounds of New Mexico Skies, near Mayhill, NM (elevation 7300 feet).
Date: Ha images taken on the nights of December 27, 28 and 31, 2006, and January 11, 2007. Clear filtered images January 13 and 26, 2007. Red images January 10, 11, 24 and 25, 2007. Green images January 26, 2007. Blue images December 28, 2006 and January 24, 2007.
Pixel scale: 1.67 arcseconds per pixel.
CCD Chip temperature: -25C
Seeing: Generally good.
Transparency: Varied by night.
Moon Phase: Close to full for most of the Ha images. Varied from little moon to large gibbous for the other images.
Copyright 2006 Mark de Regt