HOME
VdB99
Reflection Nebula in Aquilla
Click here for higher-resolution versions:40% (1589x1050) 65% (2582x1707) 100% (3972x2626)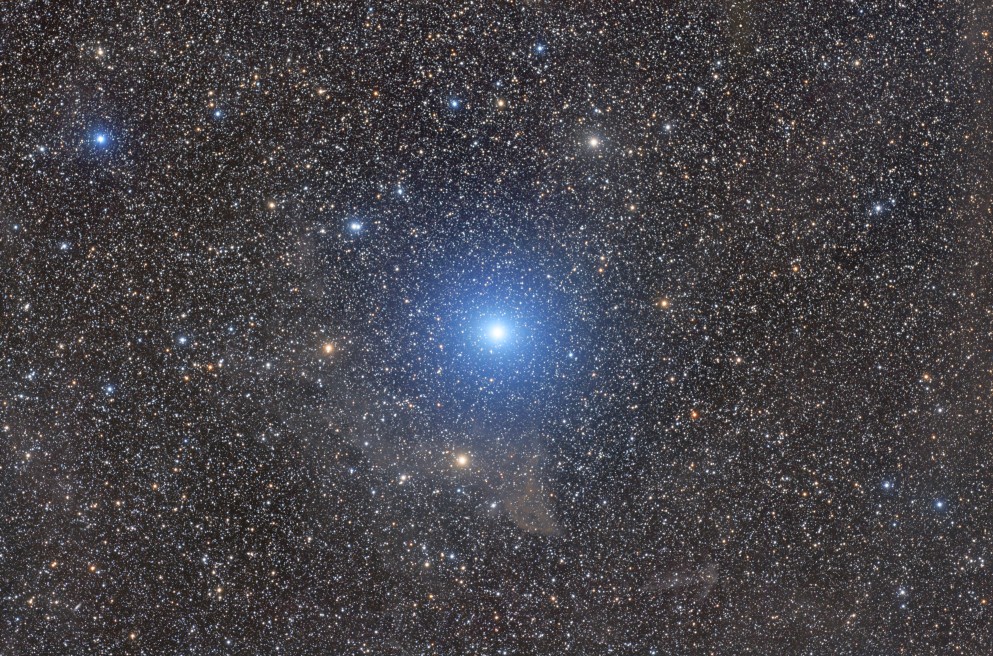 VdB129: This is a very faint reflection nebula (mostly below and to the left of the bright blue star, 65-Theta-Aquillae), visually in the constellation Aquilla. Although the nebula is pretty subdued, I like the very dense and colorful star field, highlighted (literally) by 65-Theta-Aquillae, a mag 3 star; my processing software says there are 21,000 stars in this field. This scene is thought to be about 300 light-years away from us.
Technical Information:

LRGB:285:195:165:240; All channels are the integration of 15-minute exposures through Astrodon filters. All images unbinned.

Equipment: Takahashi FSQ106N and an SBIG STL-11000M with internal filter wheel (Astrodon filter set), all riding on a Bisque Paramount ME German Equatorial Mount.
Image Acquisition/Camera Control: Maxim DL, controlled with ACP, working in concert with TheSky v6.
Processing: All processing performed in Pixinsight: calibration (bias, darks and dawn flats), image alignment and combining. Finish work included histogram stretch, repeated use of curves and noise reduction.
Location: Data acquired remotely from Fair Dinkum Skies, Moorook, South Australia.
Date: Images taken on many nights in August and September of 2013. Image posted April 3, 2015.
CCD Chip temperature: -20C
Copyright 2013, 2015 Mark de Regt